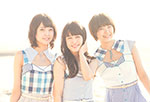 Negicco's new single Sunshine Nihonkai (サンシャイン日本海) will be released on July 22.
Negicco worked in collaboration with sound producer Tajima Takao (Original Love) on this single.
The music videos have been released.
The coupling song Festival de Aimashou (フェスティバルで会いましょう) was written and composed by Connie.
4 editions are available. The track listing is the same for each one of them.
Type A and B come with a bonus DVD with the music video of the title song or the coupling track.
Type C includes a CD featuring 2 remix songs by Dorian and Avec Avec.
Furthermore, the idol group will participate in various live events such as Tokyo Idol Festival, Aomori Rock Festival '14 and @Jam Expo 2014 this summer.
Negicco Next Decade 2014 concert will be held on September 6 at Ryutopia Niigata Performing Arts Center.
Tracklist
CD

Sunshine Nihonkai (サンシャイン日本海)
Festival de Aimashou (フェスティバルで会いましょう)
Sunshine Nihonkai (サンシャイン日本海) (Instrumental)
Festival de Aimashou (フェスティバルで会いましょう) (Instrumental)
DVD (Type A)

Sunshine Nihonkai (サンシャイン日本海) (Music Video)
DVD (Type B)

Festival de Aimashou (フェスティバルで会いましょう) (Music Vieo)
Remix CD (Type C)

Root Seven no Kioku (ルートセヴンの記憶) (Dorian remix)
Anata to Pop with You! (あなたとPop With You!) (Avec Avec remix)
Music Video (PV)