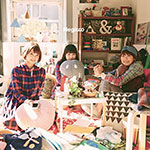 The new album of Negicco Rice & Snow will be on sale on January 20, 2015.
This is the second album of the idol group and his first in over a year. It will be released on the label T-Palette Records.
The CD album will contain 13 songs overall, including some previously released singles recently like : Tokimeki no Headliner, Triple! Wonderland, Sunshine Nihonkai et Hikari no Spur (with its b-side song 1000% no Kataomoi).