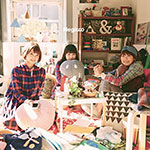 The new album of Negicco Rice & Snow will be on sale on January 20, 2015.
This is the second album of the idol group and his first in over a year. It will be released on the label T-Palette Records.
The CD album will contain 13 songs overall, including some previously released singles recently like : Tokimeki no Headliner, Triple! Wonderland, Sunshine Nihonkai et Hikari no Spur (with its b-side song 1000% no Kataomoi).
The majority of the songs were written and composed by the idol group's usual producer Connie. The novelty is that some songs were written by Negicco members ! (like Arigatou no Present et Cream Souda Love, the last one written by one of the membres, Nao☆).
Furthermore, the new single Hikari no Spur was released on December 2. Il ranked 5th on Oricon Weekly Singles chart.
Tracklist
Triple! Wonderland (トリプル!WONDERLAND)
Tokimeki no Headliner (ときめきのヘッドライナー)
1000% no Kataomoi (1000%の片想い)
Cream Souda Love (クリームソーダ Love)
Sunshine Nihonkai (サンシャイン日本海)
Hadashi no Rainbow (裸足の Rainbow)
Futari no Yuugi (二人の遊戯)
Pajama ・Party ・ Night

 

(パジャマ・パーティー・ナイト)
BLUE, GREEN, RED AND GONE
Space Nekojaracy

Jiyuu ni (自由に)

Hikari no Spur (光のシュプール)

Arigatou no Present (ありがとうのプレゼント)