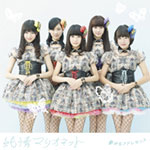 Yumemiru Adolescence's new album Junjou Marionette (純情マリオネット) will be released on November 26.
It is the 2nd mini-album from YumeAdo. 4 editions are available. The tracklist is the same for each one of them, only the jacket is different.
The CD includes 7 tracks including their digital single Hanamomo (ハナモモ) and the instrumental version of the title song.
You & Me is a solo song performed by Shida Yumi from Yumemiru Adolescence.
Tracklist
Junjou Marionette (純情マリオネット)
Candy-chan (キャンディちゃん)
17:30 no Anime (17:30のアニメ)
You & Me
Itsuka Ohime-sama ga (いつかお姫様が)
Hanamomo (ハナモモ)
Junjou Marionette (純情マリオネット) (Instrumental)
Music Video (PV)