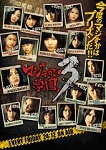 The DVD box set of the TV drama Majisuka Gakuen 3 (マジすか学園3) starring AKB48, SKE48 and HKT48 will be released on December 14.
The DVD box set includes the 12 episodes of the 3rd season of the series.
It comes with a bonus disc featuring making-of and 5 photos randomly selected.
DVD Box Set
Disc 1 : Episodes 1 – 3
Disc 2 : Episodes 4 – 6
Disc 3 : Episodes 7 – 9
Disc 4 : Episodes 10 – 12
Disc 5 : Making-of