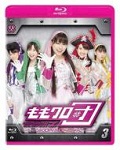 Momoiro Clover Z's blu-ray Momoclo Dan Zenryoku Gyoshuku Director's Cut Edition Vol.3 (ももクロ団 全力凝縮ディレクターズカット版 Vol.3) will be released on November 9.
The blu-ray includes the episodes of their TV show Momoclo Dan aired on TBS. It also contains director's cut and other bonus video footage..
This is the 3rd of 5 volumes.
Regular Edition
Bonus

Director's cut
Bonus video footage