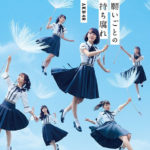 AKB48 will release their 48th single Negaigoto no Mochigusare (願いごとの持ち腐れ) on May 31.
The short versions of the MVs have been unveiled. The full music video for Negaigoto no Mochigusare lasts 11 minutes.
The center position is held by Matsui Jurina (SKE48) and Miyawaki Sakura (AKB48 & HKT48).
The selected (senbatsu) members are : Yokoyama Yui, Iriyama Anna, Oya Shizuka, Minegishi Minami, Mukaichi Mion, Mutou Tomu, Kato Rena, Kizaki Yuria, Watanabe Mayu, Kashiwagi Yuki, Kawamoto Saya, Kojima Mako, Komiyama Haruka, Takahashi Juri, Okada Nana, Oguri Yui, Oda Erina, Kubo Satone, Matsui Jurina, Takayanagi Akane, Furuhata Nao, Goto Rara, Suda Akari, Ichikawa Miori, Yamamoto Ayaka, Yamamoto Sayaka, Yoshida Akari, Shiroma Miru, Kodama Haruka, Sashihara Rino, Miyawaki Sakura, Tomonaga Mio, Matsuoka Hana and Nakai Rika.
The sister group STU48 makes its first appearance ; in this single, the members perform the song Setouchi no Koe in "theater" edition. Furthermore, Sashihara Rino (the HKT48 theater manager), will assume the same function for STU48 theater on a cruise ship. Okada Nana (member of AKB48 Team 4,) is STU48 capitain.
This single will be available in several editions inluding one which will be sold only in AKB48 theater.
The first sales of limited editions will come with an event ticket to have chance to attend one of the single launch events.
Furthermore, a new single of AKB48 will be releases next summer!
Tracklist
Type A

CD

Negaigoto no Mochigusare (願いごとの持ち腐れ)
Ima Para (イマパラ)
Maebure (前触れ)
Negaigoto no Mochigusare (off vocal ver.)
Ima Para (off vocal ver.)
Maebure (off vocal ver.)

DVD

Negaigoto no Mochigusare (Music Video)
Ima Para (Music Video)
Maebure (Music Video)
Type B

CD

Negaigoto no Mochigusare (願いごとの持ち腐れ)
Ima Para (イマパラ)
Tenmetsu Pheromone (点滅フェロモン)
Negaigoto no Mochigusare (off vocal ver.)
Ima Para (off vocal ver.)
Tenmetsu Pheromone (off vocal ver.)

DVD

Negaigoto no Mochigusare (Music Video)
Ima Para (Music Video)
Tenmetsu Pheromone (Music Video)
Type C

CD

Negaigoto no Mochigusare (願いごとの持ち腐れ)
Ima Para (イマパラ)
Ano Koro no Gohyakuendama (あの頃の五百円玉)
Negaigoto no Mochigusare (off vocal ver.)
Ima Para (off vocal ver.)
Ano Koro no Gohyakuendama (off vocal ver.)

DVD

Negaigoto no Mochigusare (Music Video)
Ima Para (Music Video)
Ano Koro no Gohyakuendama (Music Video)
Theater Edition

CD

Negaigoto no Mochigusare (願いごとの持ち腐れ)
Ima Para (イマパラ)
Setouchi no Koe (瀬戸内の声) (STU48)
Negaigoto no Mochigusare (off vocal ver.)
Ima Para (off vocal ver.)
Setouchi no Koe (off vocal ver.)
Music Video (PV)