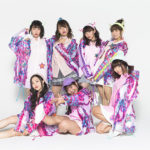 Mizorogi Seran and Kodakari Momoka are going to leave Cheeky Parade.
Both girls will stop their activities after a last performance during Cheeky Parade Live Live Live ! Vol.5 which will be held on June 9 at Shibuya Womb in Tokyo.
Mizorogi Seran and Kodakari Momoka recently had many discussions with the other members, the staff and their families.
They decided to leave the idol group in order to follow their own path. In comments posted on the official website, they apologized to the fans for this sudden announcement, and thanked them for their support. They haven't given more details about their future.
As a result, Cheeky Parade will pursue their activities as a 5-member idol unit because Yamamoto Marin and Suzuki Mariya are still studying in Los Angeles.
Mizorogi Seran and Kodakari Momoka are members of Cheeky Parade for 5 years.
We wish them all the best in their future endeavors.