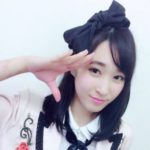 The new member Futaba (双葉), joined idol group Chu-Z.
She was introduced during a concert of Chu-Z held on March 13 at Shinjuku BLAZE.
After the departure of leader Maia last January, the other girls decided to recruit new members in Chu-Z.
Futaba was born on June 5 1996 in Saitama Prefecture.
Her color within the idol group is dark blue.