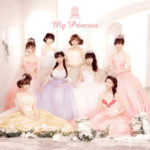 The new album of Houkago Princess entitled My Princess was released on March 22.
This is the 2nd original album by Houkago Princess.
It is also their 1st major label album.
You can find the 5 first major singles of the group of idols such as Kiete, Shirayukihime, Junpaku Antoinette, Seishun Mermaid, Himitsu no Tiara to Gelato and Lychee Red no Umei ; and some B-side songs.
The album is sold in 2 editions: regular and limited.
The limited editions includes a photobook and a slipcase.
Houkago Princess also released an album of their first indies songs, titled Indies Best ~Memories~ (インディーズベスト~Memories~) on the same day.
Tracklist
CD

Junpaku Antoinette (純白アントワネット)
Tonari no Seki no Princess (隣の席のプリンセス)
Kiete, Shirayukihime (消えて、白雪姫)
Sennen Maika (千年舞歌)
My love song
Lychee Red no Umei (ライチレッドの運命)
Forza! Ole!
Seifuku Cinderella (制服シンデレラ)
Memories ~Kimi to Boku no Kousaten~ (Memories ~君と僕の交差点~)
Seishun Mermaid (青春マーメイド)
Dream Door (2017 version)
Himitsu no Tiara to Gelato (秘密のティアラとジェラート)