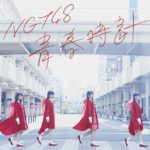 NGT48 make their debut with the single Seishun Dokei (青春時計) on April 12.
It is the first single by NGT48, a new sister group of AKB48, formed in October 2015
The group had participated in songs from the singles of AKB48 such as : Kimi wa Melody, Tsubasa wa Iranai and Shoot Sign.
Discover the short versions of the MVs.
The different covers of the single, showing the NGT48 members crossing the streets of Niigata, are perfectly reminiscent of the famous cover of the album Abbey Road (1969) of The Beatles.
The selected members (senbatsu) are : Ogino Yuka, Oguma Tsugumi, Kato Minami, Kitahara Rie, Sato Anju, Sugahara Riko, Takakura Moeka, Tano Ayaka, Nakai Rika, Nishigata Marina, Hasegawa Rena, Honma Hinata, Murakumo Fuka, Yamaguchi Maho, Yamada Noe and Kashiwagi Yuki (concurrent position with AKB48).
The single will be released in several editions The DVDs will contain the music videos.
Tracklist
Type A

CD

Seishun Dokei (青春時計)
Akikan Punk (空き缶パンク)
Shutsujin (出陣)
Seishun Dokei (off vocal ver.)
Akikan Punk (off vocal ver.)
Shutsujin (off vocal ver.)

DVD

Seishun Dokei (Music Video)
Shutsujin (Music Video)
Type B

CD

Seishun Dokei (青春時計)
Akikan Punk (空き缶パンク)
Junjou Yoroshiku (純情よろしく)
Seishun Dokei (off vocal ver.)
Akikan Punk (off vocal ver.)
Junjou Yoroshiku (off vocal ver.)

DVD

Seishun Dokei (Music Video)
Junjou Yoroshiku (Music Video)
Type C

CD

Seishun Dokei (青春時計)
Akikan Punk (空き缶パンク)
Kurayami Motomu (暗闇求む)
Seishun Dokei (off vocal ver.)
Akikan Punk (off vocal ver.)
Kurayami Motomu (off vocal ver.)

DVD

Seishun Dokei (Music Video)
Kurayami Motomu (Music Video)
"CD only" Edition

CD

Seishun Dokei (青春時計)
Akikan Punk (空き缶パンク)
Shitanona de Yobeta no wa… (下の名で呼べたのは・・・) / Kenkyuusei
Seishun Dokei (off vocal ver.)
Akikan Punk (off vocal ver.)
Shitanona de Yobeta no wa… (off vocal ver.)
Music Video (PV)