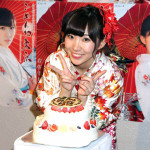 Iwasa Misaki announced her graduation from AKB48.
She wants to pursue her career as a enka singer.
Iwasa Misaki made this announcement during her 1st solo concert on January 30th at Asakusa Public Hall, Tokyo. This event was also celebrating her 21st birthday.
As a enka singer, her discography has already 5 singles (Mujin Eki, Moshimo Watashi ga Sora ni Sundeitara, Tomo no Ura Bojou, Hatsu Sake, Gomen ne Tokyo) and 1 album (Request Covers).
Iwasa Misaki is currently part of AKB48 Team B. She joined the idol group in 2009 as a 7th generation member.
The date of her graduation hasn't been determined yet.