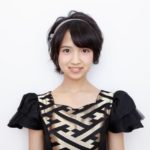 Kawamura Ayaka announced her graduation from Akamaru Dash☆.
This announcement was made on April 6 via her official blog.
Kawamura Ayaka was on hiatus since last October for hip injuries ; requiring long treatment, she finally decided to leave the group. She apologized to the fans and thanked them for their support.
Her graduation is scheduled for April 23.
Kawamura Ayaka is one of the original members of Akamaru Dash☆. The idol group was formed in August 2013.
Furthermore, Akamaru Dash☆ will release their 4th single Growing Dash! on April 30.