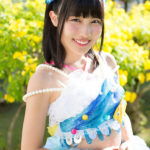 Okumura Nonoka recently announced her graduation from Niji no Conquistador.
This announcement was made on October 21 on NijiCon website.
In her message, she mentions that when she joined the group in 2014, her only goal was to be an idol. Over time, she began to think about her future and how she wants to experience and accomplish many things in life.
Aged 16, she decided to leave the group to achieve these goals.
Okumura Nonaka's graduation date will take place at the Tokyo Akasaka BLITZ after Niji no Conquistador concert titled 2018 NEW YEAR RE [set1273 / start1274], on January 18th.
Earlier, the same day, there will also be a birthday event for her titled Nono Matsuri ~ Okumura Nonoka Seitan Kinen Fes ~.
Good luck to Nonaka.