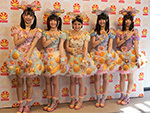 The World Standard participated in Japan Expo 2017 in Paris Nord Villepinte, France, last summer. Along with other medias, we had the opportunity to meet the members of the idol group.
Their sound producer and composer, Suzuki Manaka, was also present to answer questions about music.
Check out this long interview with Wa-Suta.
Could you introduce yourselves?
– MR : (Note : She speaks in Korean) Hi. My name is Mishina Ruka. I'm 16 years old.
– HN : (In English) Hi. Nice to meet you everyone. My name is Hirokawa Nanase. I'm 18 years old. I love English.
– SH : (In French) Hi. My name is Sakamoto Hazuki. I'm 18 years old. I study French. Nice to meet you.
– KR : (In English) Hi. Nice to meet you everyone. My name is Kodama Ririka. 16 years old. Please call me Riri. I like English. (en anglais)
– MM : (In Chinese) Hi. My name is Matsuda Miri. I'm 17 years old.
What is the concept of the group?
– HN : Our concept is "The World Standard". So we are called The World Standard, also shortened as Wa-Suta. We are a Japanese idol group introducing « kawaii » to the World. We're doing promotion on social media. Our costumes are kawaii. The songs are inspired by world music and so many other genres.
What were your motivations for becoming idols? What does this represent for you?
– MM : One of my friends was an idol, that's why I wanted to do this. According to me, being an idol is to receive dreams and courage, but also to give it to the fans. I would like to share this through dance, music and social networks.
– KR : I was a fan of some actresses that I had watched on TV. Then I went to a school to become an idol with the desire to give dreams to people.
– SH : I passed auditions, and that's how I became idol. I would also like to give courage and dreams to the fans.
– HN : I was interested in music and dance. I was a fan of Cheeky Parade who are also my « senpai ». For me, being an idol is sharing Japanese culture (« kawaii », « anime », …) through these activities.
– MR : At first, I was not really interested in idols. Someone invited me to participate in auditions, and finally I succeeded. For me, being idol is dancing, singing, and bringing something to other people.
Where do you find inspiration for the MVs and the music ?
– SM : I'm inspired by daily life. Sometimes we are sad, sometimes we are happy. I transcribe those feelings in the songs. It may sound a bit weird, but that's how I write the songs.
How do you mark the difference between The World Standard and other idol groups?
– KR : We study English, Chinese, French and Korean to be able to communicate in these languages on social networks. Don't hesitate to share our pictures on Twitter, Facebook…
Do you think it brings a special relationship with your fans?
– MM : Thanks to this, fans teach us a lot, and we can bring something to them too. We really feel closer through this.
You have already held live performances in several countries. How do you feel about having many fans abroad?

– KR : Before our major label debut, we were only performing in Japan. Then we had the opportunity to go to different places such as Shanghai, Singapore, Taiwan, Thailand, and new France. The atmosphere is different between Japan and the other countries. Every time it's a pleasure for us to see some fans abroad.
Japan Expo is an event that brings together different themes such as mangas, video games, anime, music … Among this, what are your favorite themes?
– MM : For me, it's the video games and the anime. I love Sword Art Online.
– SH : I like anime for children such as Doraemon and Chibi Maruko-chan.
– MR : I like anime too, especially Attack on Titan that I watch alot. I was surprised to see at Japan Expo cosplayers carrying flags from it.
– KR : We have already performed live versions of anime songs on Japan Expo's Karasu and Ichigo stages.We like this kind of music.
What are your favorite anime series?
– HN : I love Chibi Maruko-chan which is currently airing on Japanese television. I'm trying to be at home during the broadcasts.
– KR : We like Pikachu and Pokemon which are also popular overseas. Personally I also like Card Captor Sakura.
You are all good at foreign languages. Was this already a passion before joining The World Standard?

– SH : We started to study foreign languages after joining the group because we wanted to promote the kawaii concept around the world. We learn different languages for that.
You participated in the Anime 100 concert along with Umi Kuun and Kamitsuki. Did you enjoy performing on stage with artists who have a different style than yours?
– HN : We were very happy to participate. The audience was different too, so it was a good opportunity to introduce The World Standard. We have already had the opportunity to collaborate with other artists at Tokyo Game Show.
In the lyrics of the song Yuumei ni Nyaritai, you tell that you would like to walk in Paris and say hello to Mona Lisa. Have you had the opportunity?
– SH : No, unfortunately, we haven't done that. But I'd love to see Mona Lisa, shake her hand and greet her.
The music video for Kanzen Naru Idol depicts the negative side of idols. What is the true meaning of it?
– SM : There may be this feeling because we can sometimes think that idols are forced to do something. I wish it were the opposite, that they enjoy music and dance. That's the idea behind this song.
Among all your music videos, what is your best memory?
– MR : As far as I'm concerned, it's the first one, Ultra Mirakurukuru Final Ultimate Choco Beam. The theme was RPG video games. Many visual animations were used, the filming took place in front of a green background, and that marked me a lot. All this was very new to us.
– HR : For me it's Kanzen Naru Idol. Usually we have pastel colored outfits, while there we had black and white costumes. In the end, we had extravagant hairstyles and visual kei makeup, so it was fun to change your style.
– KR : Inu Neko, Seishun Massakari because we filmed it with our fans. I thought only members could appear in a music video, so it was a new experience for me. In addition we filmed the making, and people could comment at the same time. We had the feeling of working together.
Did having a French speaking member facilitate the participation of The World Standard in Japan Expo?
– SH : On stage, I was able to speak during the MCs with a few words in French. I was very happy that the audience would react and understand what I was saying.
What do you thing about the French audience compared to Japan or other countries?
– HN : We think that the fans are very polite in France. During the photo sessions, they said « bonjour » (hello), « merci » (thank you), sometimes even in Japanese. They looked at us as straight in the eyes. It made us very happy.
Would you like to dub anime?
– HN : We performed the opening theme song for the anime PriPara. The voices of the characters of this anime very cute. We have already discussed this, and we would be interested in voice acting.
The music video Just Be Yourself was made vertically. Is it because many people watch it on their smartphone? Will there other productions like this (VR, 360°…)?
– SM : I don't really work on the MVs. It's a group of girls working together and trying to figure out what girls would like to see. Since we all liked this one, I think there may be other videos like it.
Did you know each other before joining The World Standard ?
– MM : Before forming the group, we were iDOL Street Street-sei trainees (kenkyuusei). We knew each other from there. We had already done live performances together, and we got along very well.
This year, 2 members, Sakamoto Hazuki and Hirokawa Nanase, participated in the Nico Nico Douga stream on the AKB48 Senbatsu Sousenkyo. Are you fans of this group, and did you vote for a member?
– SH : I was very happy to be able to attend this event. I bought the book to prepare myself. AKB48 are the most representative idols. We continue to work hard to reach this level.
– HN : I'm surprised that you're asking this question. I like AKB48, SKE48, NMB48, HKT48… They have a lot of success overseas. I want to become like them. I also like Nogizaka46.
Have you always dreamed of becoming idols, or did you want to do something else?
– MR : I did not think I would become an idol one day. I listened to a lot of J-Pop, but I did not think of entering this world. But it's true that at one point I liked AKB48 a lot.
– KR : I was interested in the show business. I wanted to become an actress. When I was at school, some people told me to audition. That's why I became an idol.
– HN : I loved idols, and I really wanted to be able to become myself. I was very happy when I passed the auditions. I think idols are multi-talented. They can sing, dance, model, and so on.
What is your next goal with The World Standard ?
– SH : We want to become artists who are active and who have success around the world.
– KR : Our goal is to do concerts in many countries. I am studying foreign languages. I want our group to be popular.
There are bread and pastries on your costumes. Which of these products do you prefer?
– MR : I really like breads, and especially French bread. My favorite is vanilla.
– MM : On each of our outfits, there is at least one bread that we bit. So there are our teeth marks on it. Some are soft and fluffy, others are hard. I love to touch the one which is soft on our costume.
– HN : I like French bread.
– SH : I would like to eat some with almond cream.
– KR : I love croissants.
Do you plan to do concerts in France or abroad outside of events like Japan Expo?
– HN : For the moment, we have not had this kind of opportunity. But we are really happy to meet French fans. We would like to give other concerts, and we hope the fans will be waiting for us.
You held a concert at Zepp DiverCity Tokyo in April, which marked a big step forward for The World Standard. What is the next step you want to achieve?
– MR : In autumn, we will organize a live tour in 9 different cities in Japan. It is true that we would like to perform in bigger venues next spring or summer.
Kawaii side is one of the concepts of The World Standard. Does this also impact your personal lives?
– HN : In our private life, we are more often dressed in white or black, a little more monotonous.
– MR : It's impossible to have such extravagant outfits in everyday life. But I like cute accessories. For example, I bought a ring with a shark on it. I love things a little weird.
Question for Matsuda Miri : You are of fan of baseball and Hiroshima Toyo Carp. Last June, you had the opportunity to sing the national anthem in their stadium at the opening of a match. How did you feel?
– MM : I didn't think I was able to do that. I was very stressed because this is different from what I usually do with The World Standard. It was the first time I was singing in front of so many people. There were 30,000 people at the stadium. But it was great, and I loved it. Hiroshima Toyo Carp fans have red outfits and accessories. When I saw all that red in the stands, I found it beautiful.
In recent years, the type of audience following idols has evolved with more girls and young adults. Did you feel this?
– MR : As our concept is kawaii, many of our fans are girls in Japan. They represent nearly half of our fans during concerts.
Who is the most kawaii of The World Standard ?
– MR : Each time I watch the music videos, I think the other members are cute.
– MM : All members of the group are cute. On Twitter, when a member changes her profile picture, I save it directly to my phone. I also take pictures when they are eating. I have a special file on them.
Do you have a message for your foreign fans?
– SH : We are The World Standard. We are happy to have come to France. We will do our best to return to another concert. Thank you very much for your support.