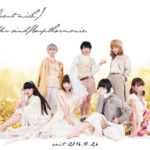 Two days after celebrating the birthdays of members Terada Juno and Shirogane Rin, Hauptharmonie made several announcements via their official blog on March 14th.
O-ant, the producer of the group began by mentioning the contract cancellation of member Chigasaki Riko (one of the Miss iD 2017 finalists), due to her health issues and non-compliance with the rules.
He also said that Hauptharmonie will disband next summer because the painful experiences over the last three years have pushed the staff of the idol group to no longer want to keep them active.
Hauptharmonie will release, in collaboration with Tapferkind, a mini album Brass! Brass!! Brass!!! on April 4.
The members of the idol group will hold their final performance during a tour to be held in Osaka, Nagoya and Tokyo.
Pormotionnal Video