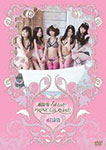 Hime Carat's 1st DVD Princess Road will be released on July 31.
It is a documentary following the members of Hime Carat before their major debut.
The DVD includes making-of, interview, backstage and rehearsal footage, and more.
Hime Carat's major debut single 51% Platonic (51%プラトニック) is on sale since June 26.
Tracklist
Important Announcement (重大発表)
Recording (レコーディング)
Hime Carat no Nichijou (姫caratの日常)
51% Platonic (51%プラトニック) (Music Video Making of)
Gravure Shooting Making-of (グラビア撮影メイキング)
Interview (インタビュー)
Yume ni Mukatte (夢に向かって)
51% Platonic (51%プラトニック) (Dance Edit Ver.)