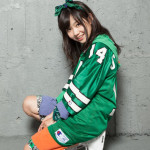 Hime was recruited by Lyrical School as a new member. She was formerly part of Rhymeberry.
She is going to replace Hina who announced.her graduation in order to study abroad.
Hime told that she was very happy because she is a fan of Lyrical School for years. She added that she had a lot of motivation.
She left Rhymeberry alongside Hikaru at the beginning of the year.
Furthermore, Hina decided to study abroad in order to improve her foreign language skills. Her goal is to find a job in this sector. She is going to enter her new school in January in a country that has not been revealed yet.
Her graduation live performance will be held on December 13 at Sound Museum Vision, Tokyo. This concert will also celebrate the 5th anniversary of Lyrical School.