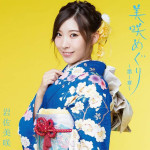 Iwasa Misaki unveiled her new album Misaki Meguri ~Dai 1 Shou~ (美咲めぐり~第1章~).
This is the first studio album of the ex-member of the AKB48. It will be released on November 30th.
It marks the beginning of Iwasa Misaki as enka singer.
It will contain new songs as well as the first singles of Iwasa Misaki released since 2012, such as : Mujin Eki, Moshimo Watashi ga Sora ni Sundeitara, Tomo no Ura Bojou, Hatsuzake and Gomen ne Tokyo.
Iwasa Misaki, nicknamed Wasamin, becomes more and more well-known with her enka songs  (music genre rather liked by the " elders"). She continues her career as an enka singer since her graduation from AKB48 last March.
The limited edition CD will contain a bonus song.
The DVD will include video clips of the singles and bonus videos.
Furthermore, Iwasa Misaki came at Japan Expo in France in last July to present the enka music to foreigners.
A new single entitled Saba Kaidou (鯖街道) is scheduled to be released on January 10, 2017.
Tracklist
Mujin Eki (無人駅)
Moshimo Watashi ga Sore ni Sundeitara (もしも私が空に住んでいたら)
Tomo no Ura Bojou (鞆の浦慕情)
Hatsuzake (初酒)
Gomen ne Tokyo (ごめんね東京)
Itako Hanayome-san (潮来花嫁さん)
Gakusei Jidai (学生時代)
Ringo no Uta (リンゴの唄)
Kita no Hotaru (北の螢)
Namida no Sanbashi (なみだの桟橋)
Tokyo no Bus Girl (東京のバスガール)
Nada Sousou (Acoustic version) (涙そうそう) (Bonus de l'édition limitée)
DVD

Mujin Eki (Music Video)
Moshimo Watashi ga Sora ni Sundeitara (Music Video)
Tomo no Ura Bojou (Music Video)
Hatsuzake (Music Video)
Gomen ne Tokyo (Music Video)
Music Video Commentary (Bonus)
Cover Shooting Making-of Video (Bonus)