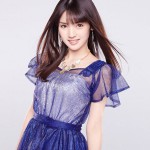 Michishige Sayumi announced her return to show business in a post published on her blog on November 26.
She will resume activities next Spring.
Michishige Sayumi explained that she aimed to do performances that give her new feelings, and that are different from live.
Michishige Sayumi graduated from Morning Musume and Hello! Project on November 26, 2014. She had taken a break from the entertainment industry for 2 years.
Further details will be given later.
Welcome back Sayumi!