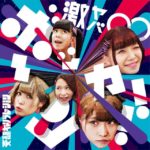 Moso Calibration will release their 4th major single Geki Yaba∞Bokkan!! (激ヤバ∞ボッカーン!!) on March 8.
Unfortunately, this single was recorded without Futaba Nae who is recovering from unspecified health issues since last December.
The main song serves as the new ending theme song for the anime series Time Bokan 24. A special edition will be on sale.
The lyrics were written by Kator Kanako, Hige Driver and the members of Moso Calibration, with the image of Bima-jo, a bad and sexy character who appears in the anime.
Tracklist
Regular Edition CD

Geki Yaba∞Bokkan!! (激ヤバ∞ボッカーン!!)
Kimi no Uta Boku no Uta (君の歌 僕の歌)
Geki Yaba∞Bokkan!! (Instrumental)
Kimi no Uta Boku no Uta (Instrumental)
Anime Edition CD

Geki Yaba∞Bokkan!!
back stage
Geki Yaba∞Bokkan!! (Amine version)
Geki Yaba∞Bokkan!! (Instrumental)
back stage (Instrumental)
Limited Edition DVD

Geki Yaba∞Bokkan!! (Music Video)
Geki Yaba∞Bokkan!! (Music Video Making)
Music Video (PV)