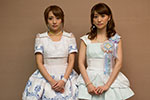 Oshima Yuko's graduation ceremony was initially scheduled on March 30 during the 2nd day of AKB48 Group Haru Con (AKB48単独&グループ 春コン) at National Olympic Stadium. However, the event had to be cancelled due to stormy weather.
It was announced that a new graduation concert will be held on June 8 at Ajinomoto Stadium in Tokyo.
The event will take place one day after the ceremony of the AKB48 Senbatsu General Election 2014 (AKB48 選抜総選挙 2014) which is scheduled at the same venue.
Oshima Yuko and AKB48 general manager Takahashi Minami posted a video message on the idol group's official YouTube channel to announce that her graduation ceremony was postponed.
Moreover, Oshima Yuko talked to the fans after the cancellation of the concert to apologize and to thank them for their support.
Oshima Yuko will give her last live performance with AKB48 at their theater in Akihabara on June 2.