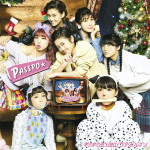 Passpo☆ will release their new single Gimme Gimme Action / Love Refrain (ギミギミ action / ラブリフレイン) on November 23.
It includes a double A-side.
Check out the funny music videos below.
The music of Gimme Gimme action was composed by Akutsu Kentaro (aka Penne to Arabiatta).
The lyrics of Love Refrain were written by Sumire Yoshida (aka Suu of the Silent Siren), its music and arrangement were made by Kubo Naoki.
In the MV of Gimme Gimme action, the members of Passpo☆ celebrate Christmas as "Passpo☆ Family" ; Each member of the group plays a role: Anna (Tamai Anna) invites her lover Ryan (Anzai Naomi) home to meet her Daddy (Mori Shiori) and Mammy (Fujimoto Yukimi). This turns out to be a mistake as Ryan attempts to make a move on Anna's older sister, Ai (Negishi Ai), resulting in a fight. The family dog Bacon (Iwamura Natsumi) saves Christmas spirit by turning up the volume on the TV, distracting everyone as they stop to watch PASSPO☆ on the tiny screen. Peace is restored and Baby (Masui Mio) takes her first steps as the video ends
In the video clip of Love Refrain, Passpo☆ members sing and dance, in act this is their TV performance, that you can see in the clip of Gimme Gimme action.
Both MVs made their world premiere on October 20th during their SHOWROOM broadcast along with their new profile photo and cover art for the single.
The single will be sold in several editions: one regular (Economic Class) and 2 limited (First Class and Business Class). The limited editions will have a different extra DVD containing music videos of the 2 songs
Tracklist
CD

Gimme Gimme action (ギミギミaction)
Love Refrain (ラブリフレイン)
Gimme Gimme action (instrumental)
Love Refrain (instrumental)
DVD

First Class Edition

Gimme Gimme action (Music Video)

Business Class Edition

Love Refrain (Music Video)
Music Video (PV)