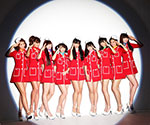 Passpo☆ will hold their "one-man flight" No JC! No JK! on May 11.
The concert will take place at Shibuya-AX, Tokyo.
2 live performances titled Business Class Flight and First Class Flight are scheduled.
Moreover, Passpo☆'s upcoming single Step & Go / Candy Room (Step & Go / キャンディー・ルーム) will go on sale on May 22.
Schedule
Date : 11/05/2013
Time : 13:00 (Business Class Flight) / 19:00 (First Class Flight)
Venue : Shibuya-AX, Tokyo