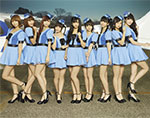 Passpo☆ will release Shibuya Kokaido Flight DVD ~Sayonara ぱすぽ☆ Konnichiwa Passpo☆ (渋谷公会堂フライトDVD ・さようなら ぱすぽ☆ こんにちは Passpo☆・) on May 22.
The DVD includes the 27 songs performed at the live. The group announced that they changed their name from ぱすぽ☆ to Passpo☆ during this event.
The concert was held on December 28, 2012, at Shibuya Public Hall, Tokyo.
Moreover, Passpo☆'s 8th single Step & Go / Candy Room (Step & Go / キャンディー・ルーム) will also go on sale on May 22.
Setlist
La La Love Train ~Koi no Katamichi Kippu~ (La La Love Train~恋の片道切符~)
Shoujo Hikou (少女飛行)
ViVi Natsu (ViVi夏)
Hello
Street Fighter
Kisu = Suki (キス=スキ)
Pink no Parachute (ピンクのパラシュート)
With XXX
Pretty Lie
Go on a Highway
Jaa ne… (じゃあね…)
Kimi Iro no Samba (君色のサンバ)
Wing
Uhae! (ウハエ!)
Next Flight
Sakura Komachi (サクラ小町)
Tap my Toe
Dom Dom Freedom (ダムダムフリーダム)
2 Days
Bathtub (バスタブ)
Love Diary
Break Out!!
Nastuzora Hanabi (夏空Hanabi)
Material Girl (マテリアルGirls)
– Encore –
No.1 Boy
Wanted
Dear my Friends