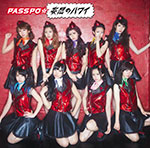 Passpo☆ will release their new single Mousou no Hawaii (妄想のハワイ) on July 31.
The single is produced by Anno Yuta from Hawaiian6.
The First Class and the Business Class editions include a bonus DVD featuring either the music video of the title song or its dance shot version. They also come with a ticket for a handshake event.
It is the 3rd single from Passpo☆ to be released in 3 months, following Step & Go / Candy Room (Step & Go / キャンディー・ルーム) and Truly.
Moreover, the concert tour Passpo☆ Charter Flight Tour in Summer Vacation!! (Passpo☆チャーター便フライトツアー in Summer Vacation!!) will be held from August 3 to 31.
Tracklist
CD

Mousou no Hawaii (妄想のハワイ)
Mudai (無題)
Mousou no Hawaii (妄想のハワイ) (Instrumental)
Mudai (無題) (Instrumental)
DVD (First Class Edition)

Mousou no Hawaii (妄想のハワイ) (Music Video)
DVD (Business Class Edition)

Mousou no Hawaii (妄想のハワイ) (Dance Shot Ver.)
Music Video (Short Ver.)