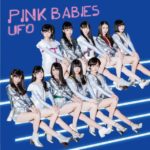 Pink Babies released their new single UFO on February 15.
This is a cover of the single of the same name of the Pink Lady released in 1977. Pink Babies, their sister group, usually cover their songs.
The MVs were unveiled.
The single is available in three editions. Each CD has a different track listing.
Most songs like Monday Mona Lisa Club, OH !, Itoushi no New Orleans and Muchuu ga Ichiban Utsukushii are also covers of songs of Pink Lady.
The single also contains songs orginally sung by Yamamoto Linda such as: Dou ni mo Tomaranai (1972), Kuruwasetai no (1972), and the hit Nerai Uchi (1973).
Tracklist
CD Type A

UFO
Monday Mona Lisa Club (マンデー・モナリザ・クラブ)
Nerai Uchi (狙いうち)
Muchuu ga Ichiban Utsukushii (夢中がいちばん美しい)
CD Type B

UFO
Monday Mona Lisa Club (マンデー・モナリザ・クラブ)
Kuruwasetai no (狂わせたいの)
OH!
CD Type C

UFO
Monday Mona Lisa Club (マンデー・モナリザ・クラブ)
Dou ni mo Tomaranai (どうにもとまらない)
Itoushi no New Orleans (愛しのニューオリンズ)
Music Video (MV)