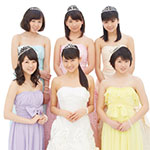 S/mileage's 14th single Atarashii Watashi ni Nare! / Yattaruchan (新しい私になれ! / ヤッタルチャン) will be released on July 3.
It is a double A-side single produced by Tsunku♂. Yattaruchan is a digital rock song.
The limited editions come with a bonus DVD featuring either various versions of the music videos or making-of footage, and a ticket for an event.
A special website has been opened : www.up-front-works.jp/atawata/
Moreover, S/mileage's 2nd album 2 Smile Sensation (②スマイルセンセーション) is on sale since May 22.
Regular Edition
CD

Yattaruchan (ヤッタルチャン)
Atarashii Watashi ni Nare! (新しい私になれ!)
Yattaruchan (ヤッタルチャン) (Instrumental)
Atarashii Watashi ni Nare! (新しい私になれ!) (Instrumental)
Limited Edition
CD

Atarashii Watashi ni Nare! (新しい私になれ!)
Yattaruchan (ヤッタルチャン)
Atarashii Watashi ni Nare! (新しい私になれ!) (Instrumental)
Yattaruchan (ヤッタルチャン) (Instrumental)
DVD (Type A)

Yattaruchan (ヤッタルチャン) (Music Video)
Yattaruchan (ヤッタルチャン) (Other Version)
DVD (Type B)

Atarashii Watashi ni Nare! (新しい私になれ!) (Music Video)
Atarashii Watashi ni Nare! (新しい私になれ!) (Other Version)
DVD (Type C)

Making of (メイキング映像集)
Music Video (PV)