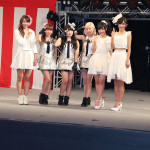 Yamamoto Marin, Suzuki Mariya (Cheeky Parade) and Takeda Maaya (GEM) are going to study abroad in Los Angeles, USA.
As a result, the 3 girls will temporarily suspend activities with their idol groups during this period.
They made this announcement on January 17th at the end of iDOL Street Carnival 2016 live at Nakano Sunplaza, Tokyo.