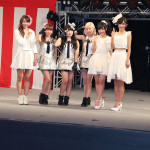 Yamamoto Marin, Suzuki Mariya (Cheeky Parade) and Takeda Maaya (GEM) are going to study abroad in Los Angeles, USA.
As a result, the 3 girls will temporarily suspend activities with their idol groups during this period.
They made this announcement on January 17th at the end of iDOL Street Carnival 2016 live at Nakano Sunplaza, Tokyo.
Yamamoto Marin, Suzuki Mariya and Takeda Maaya told that it was not a graduation, and that they will come back in 2 years. They are going to study singing, dancing and of course English.
Yamamoto Marin and Suzuki Mariya have already been to USA with Cheeky Parade. They gave concerts in New York and Los Angeles in October 2014 and in October 2015.