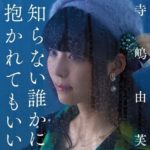 Terashima Yufu unveils her new single Shiranai Dareka ni Dakaretemo Ii (知らない誰かに抱かれてもいい).
It will be released on November 8.
This is the 8th single of the former BiS member Terashima Yufu.
Check out the short version of the MV below.
Terashima Yufu has long been known for having long locks of hair, but it seems that this clip illustrates a new Yufu that cuts her hair in seconds at the beginning of the clip.
We also see her watching her old clips of the singles Tenshi no Telepathy and Watashi wo Ryoko ni Tsuretette, making for a pleasant flashback.
The single will be available in 3 versions: one regular, two other ones A and B.
The DVDs of the limited editions will contain the MV of the main song and its making, or a special video.
Tracklist
CD

Shiranai Dareka ni Dakaretemo Ii (知らない誰かに抱かれてもいい)
Sekai de Ichiban Kawaii Kimi e (世界で一番かわいい君へ)
Suki ga Hajikeru (好きがはじける)
Shiranai Dareka ni Dakaretemo Ii (off vocal)
Sekai de Ichiban Kawaii Kimi e (off vocal)
Suki ga Hajikeru (off vocal)
Limited Edition A

CD

Shiranai Dareka ni Dakaretemo Ii (知らない誰かに抱かれてもいい)
Suki ga Hajikeru (好きがはじける)
Shiranai Dareka ni Dakaretemo Ii (off vocal)
Suki ga Hajikeru (off vocal)

DVD

Shiranai Dareka ni Dakaretemo Ii (Music video)
Music Video Making Of
Limited Edition B

CD

Shiranai Dareka ni Dakaretemo Ii (知らない誰かに抱かれてもいい)
Sekai de Ichiban Kawaii Kimi e (世界で一番かわいい君へ)
Shiranai Dareka ni Dakaretemo Ii (off vocal)
Sekai de Ichiban Kawaii Kimi e (off vocal)

DVD

Sekai de Ichiban Kawaii Kimi e (Jacket Making Of MV)
Music Video (PV)