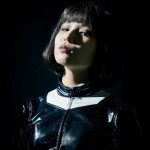 Tsukumo Hotaru announced her that she was going to leave Necronomidol late November.
Tsukumo Hotaru told that she decided to leave the idol group in order to focus on studies at university. She will also stop activities in the entertainment industry.
She will make her last appearance as a member of Necronomidol on November 29 during Corazon Fes vol.21 (コラソンフェスvol.21). The live performance will be held at Shimokitazawa Garden in Tokyo. Other idol groups such as Ganbare! Victory, Gang Parade, Rhymeberry, Booing!!!, and more will also perform at the event.
Necronomidol's theme is darkness. Tsukumo Hotaru joined the unit in December 2014.