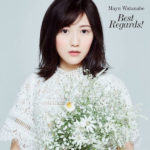 Watanabe Mayu presents her best regards with her first solo album.
The album is entitled Best Regards! and will be released on December 20th.
It will include all the first singles of Watanabe Mayu, since his solo debut : Synchro Tokimeki (2012), Otona Jelly Beans (2012), Hikaru Monotachi (2012), Rappa Senshuuchuu (2013) et Deai no Tsuzuki (2015).
The album will be available in several editions.
The tranck listing of each CD is the same for the first 10 songs.
In addition, being a popular AKB48 member, Watanabe Maty will be graduating from the idol group on December 26th.
Tracklist
Regular Edition

CD

Synchro Tokimeki (シンクロときめき)
Otona Jelly Beans (大人ジェリービーンズ)
Hikaru Monotachi (ヒカルものたち)
Rappa Renshuuchuu (ラッパ練習中)
Deai no Tsuzuki (出逢いの続き)
Sayonara no Hashi (サヨナラの橋)
Onna no Ko Nara (女の子なら)
Tadashii Maho no Tsukaikata (正しい魔法の使い方)
Mamotte Agetaku Naru (守ってあげたくなる)
Saba no Kanzume (サバの缶詰)
Mayuyuroid (マユユロイド)
Koyubi no Hohoemi (小指のほほえみ)
Magirashiteiru (紛らしている)
Triangler (トライアングラー)
Type A

CD

Synchro Tokimeki (シンクロときめき)
Otona Jelly Beans (大人ジェリービーンズ)
Hikaru Monotachi (ヒカルものたち)
Rappa Renshuuchuu (ラッパ練習中)
Deai no Tsuzuki (出逢いの続き)
Sayonara no Hashi (サヨナラの橋)
Onna no Ko Nara (女の子なら)
Tadashii Maho no Tsukaikata (正しい魔法の使い方)
Mamotte Agetaku Naru (守ってあげたくなる)
Saba no Kanzume (サバの缶詰)
Kaze no Violin (風のバイオリン
Yasashiku Sasete (やさしくさせて)
Nantai Renai Kuragekko (軟体恋愛クラゲっ娘)
Mayu no Tame ni (麻友のために)

DVD

Synchro Tokimeki (Music Video)
Otona Jelly Beans (Music Video)
Hikaru Monotachi (Music Video)
Rappa Renshuu Chuu (Music Video)
Deai no Tsuzuki (Music Video)
Sayonara no Hashi
Watanabe Mayu Bride STudy Culinary Researcher Yuuki Susumu Teacher Apprenticeship!
Super Goddess Advent ~Giant Mayuyu's Arrival in Akihabara!!~
Really During Trumpet Practce
Mayuyu Goes! First Album Making in LA
Mayuyu Solo Live ~Enjoy All Singles Digest~
Edition B

CD

Synchro Tokimeki (シンクロときめき)
Otona Jelly Beans (大人ジェリービーンズ)
Hikaru Monotachi (ヒカルものたち)
Rappa Renshuuchuu (ラッパ練習中)
Deai no Tsuzuki (出逢いの続き)
Sayonara no Hashi (サヨナラの橋)
Onna no Ko Nara (女の子なら)
Tadashii Maho no Tsukaikata (正しい魔法の使い方)
Mamotte Agetaku Naru (守ってあげたくなる)
Saba no Kanzume (サバの缶詰)
Yuuhi no Ijiwaru (夕陽のいじわる)
Mirai no Koibito (未来の恋人)
Koi wa Shinpaishou (恋は心配性)
Junjou Soda Sui (純情ソーダ水)

DVD

Rappa Senshuuchuu Release Event Solo Live Mayu's Restaurant ~Enjoy All Songs With Full Chorus~ (25 songs total)