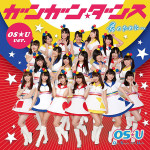 OS☆U's new single Gangan Dance / Kimi no Tame ni… (ガンガン☆ダンス / 君のために…) will be released on March 18.
This is the 11th single by OS☆U (Osu Super Idol Unit), a local idol group from Nagoya.
This CD marks their major debut. It is a double A-side.
The music video has been unveiled.