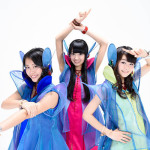 Cupitron (キュピトロン) is a Japanese idol group formed in 2014.
It currently consists of 3 members. Each one has been assigned a color.
The name Cupitron comes from the words "cupid" like an angel, and "tron" in reference to computer architecture.
The idol unit performs techno pop songs.
Biography / History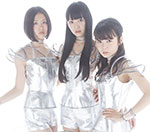 Cupitron are produced by Tobeta Bajune who has already worked with units such as Techpri (テクプリ, tc princess) and Tsuri Bit (つりビット).
Hamada Saika is a former member of Jumpin'. She is the center.
A trailer was unveiled in May 2014.
Their debut digitial single Summer Kaijuu (サマーカイジュウ) was released in June 2014.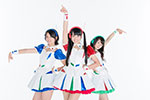 Cupitron held their 1st live performance First Contact in late June 2014 at Shibuya Rex, Tokyo.
The idol group released its 1st CD single Unicorn Parade (ユニコーンパレード) in September 2014.
Cupitron hold a monthly live series titled Galaxy Party since January 2015.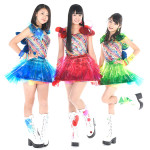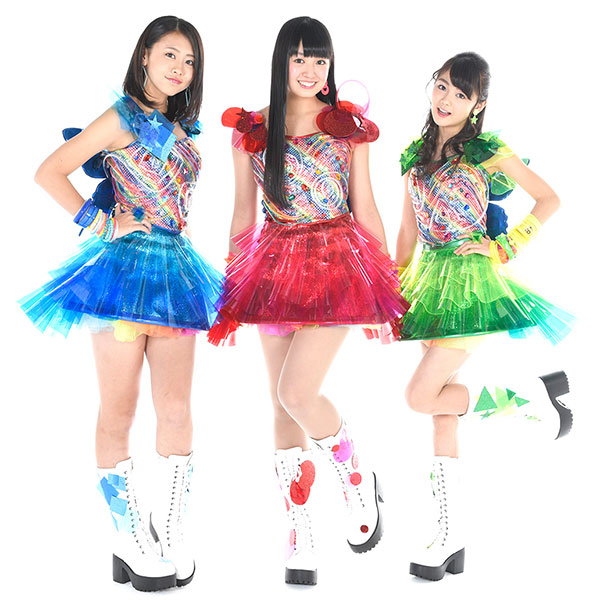 The costumes of their 2nd single Battery (バッテリー), released in February 2015, were created by fashion designer, actress and singer Shinohara Tomoe.
In July 2015, each member was wearing a costume illuminated by 200 LED lights and featuring 16.77 lighting combinations in the MV for Robot Boy Robot Girl (ロボットボーイ ロボットガール).
The girls participate regularly in the TV show NHK Koukou Kouza "Basic Science" (NHK高校講座『ベーシックサイエンス』) since April 2016.
Cupitron's 4th single Galaxy Express 999 (銀河鉄道999), on sale in May 2016, is a cover of the theme song of the famous manga and anime by Matsumoto Leiji. The manga artist has also designed the costumes of the members of the idol group.
Profile
Cupitron (キュピトロン)
Years active : 2014 – present
Label : Kisspoint Records
Agency : –
Members
Yamakawa Nichika (山川二千翔) – Blue
Hamada Saika (浜田彩加) – Red
Miyakawa Rina (宮川里奈) – Green
Discography
Singles
17/09/2014 : Unicorn Parade (ユニコーンパレード)
11/02/2015 : Battery (バッテリー)
22/07/2015 : Robot Boy Robot Girl (ロボットボーイ ロボットガール)
25/05/2016 : Galaxy Express 999 (銀河鉄道999)
Digital Singles
25/06/2014 : Summer Kaijuu (サマーカイジュウ)
Albums
Links
News