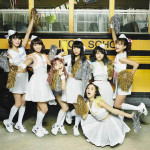 Passpo☆ (ぱすぽ☆) is a Japanese idol group formed in 2009 by Platinum Passport.
It currently consists of 7 members. Each one has been assigned a color.
The leader is Negishi Ai.
It is a sister group of Predia,  Palet and Petit Passpo☆.
Biography / History
Passpo☆ is a flight attendant-themed group. The members are the "crew", the fans are called "passengers", and a concert is a "flight". The name of the unit comes from the word "passport".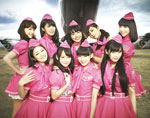 The idol group was created in June 2009.
Their 1st live (flight) was held in November 2009.
Passpo☆'s 1st single Let It Go!! was released in March 2010.
Their TV show Attention Please (アテンションプリーズ) started airing on tvk in April 2010.
The idol group participated in the Expo 2010 Shanghai China in September 2010.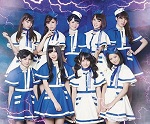 Their 1st album Take☆Off went on sale in December 2010.
The girls make regular appearances on the show Japan in Motion broadcast on Nolife in France and on TSS (Television Shin-Hiroshima System) in Japan since 2011.
They signed under Universal Music Japan label in January 2011.
Passpo☆'s major debut single Shoujto Hikou (少女飛行) ranked 1st on the Oricon chart in May 2011.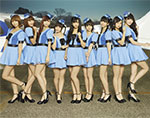 The idol group participated in Japan Expo in Paris Nord Villepinte, France, in July 2011.
Sakuma Kaho graduated in order to become a model in December 2011.
Their official mobile site opened in April 2012.
As gravure idols, the girls appeared in swimsuits in the Pa Su Po (「ぱ」「す」「ぽ」) DVD series released in August 2012. The videos were filmed in Okinawa.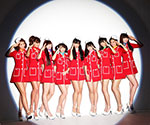 Okunaka Makoto was starring in the drama Kamen Rider Wizard 仮面ライダーウィザード from September 2012 to September 2013.
They participated in commercials for H.I.S. travel agency in November 2012 and in February 2013.
Their 1st natiowide tour Passpo☆ Charter Flight Tour 2013 was held in March 2013.
Negishi Ai and Masui Mio released their 1st photobooks, respectively entitled Nobody Knows and 30 (mio) Pocket, in April 2013. All the scenes were shot in Guam.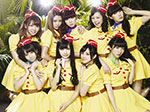 Okunaka Makoto's 2nd photobook Kawaikute Makoto ni Suimasen! (かわいくてマコトにすいません!) was published in April 2013. It features pictures of Makocchan in swimsuit, but also wearing various sexy and original costumes.
The variety show Passpo☆ no Shaku Uma TV (Passpo☆の尺うまTV) was broadcast weekly on TV Tokyo from April to September 2013.
In January 2014, Okunaka Makoto and Makita Sako held their coming-of-age ceremony (成人式, seijin shiki).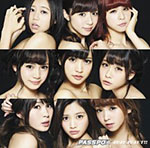 In February 2014, the photobooks of Negishi Ai and Okunaka Makoto, respectively entitled Luv for All and Good Bye my Life, were published. The photos were taken in Bali, Indonesia.
In March 2014, the idol group turned into a rock band for the single Perfect Sky. Each member played a musical instrument : Negishi Ai (guitar), Fujimoto Yukimi (guitar), Iwamura Natsumi (tambourine), Masui Mio (bass), Mori Shiori (vocal), Anzai Naomi (guitar), Tamai Anna (drums), Okunaka Makoto (synthesizer) and Makita Sako (guitar).
In July 2014, Okunaka Makoto worked as a model for Vanquish Venus fashion brand.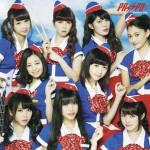 In August 2014, Negishi Ai, Okunaka Makoto and Anzai Naomi appeared in a commercial for the Japanese mobile operator company SoftBank.
Their official Line account was opened in August 2014.
The regular program Passpo☆ Owarai Theater Hall (お笑いシアターホール) started airing on Ameba Star in November 2014.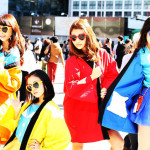 In December 2014, Iwamura Natsumi, Anzai Naomi, Mori Shiori and Fujimoto Yukimi formed the sub-unit Hacchaketai from Passpo☆ (はっちゃけ隊fromPasspo☆). Their goal is, like supporters, to encourage people who need help.
Okunaka Makoto announced her graduation in January 2015. She explained that she wanted to pursue a  solo career as an actress.
In February 2015, Masui Mio appeared in the drama Nagoya Iki Saishuu Ressha (名古屋行き最終列車).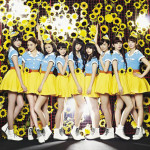 In April 2015, Negishi Ai performed in the stage play The Voices of a Distant Star (ほしのこえ ; Hoshi no Koe).
Passpo☆ no Dappi (Passpo☆の脱皮) artist book was published in May 2015.
Anzai Naomi wrote the lyrics of the song High Tension Emotion (ハイテンションエモーション), and Makito Sako the lyrics of Not in Theory, on their 4th album Beef or Chicken? released in May 2015.
Their sister group Petit Passpo☆ (ぷちぱすぽ☆) was created in May 2015.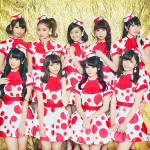 Makita Sako went on hiatus due to health problems in May 2015.
Hacchaketai 1st live took place in September 2015.
In November 2015, the girls cosplayed as Marvel's Avengers super heroes for Halloween.
Makita Sako announced her graduation in December 2015.
Their re-debut single Mr. Wednesday is going to be released in February 2016 under Nippon Crown label.
Masui Mio participated in the show Zombie School (ゾンビスクール!特別授業) broadcast on Nico Nico in February 2016.
In April 2016, Negishi Ai and Masui Mio will be starring in the stage play Gag Man Hiyori (ギャグマンガ日和) at the AiiA Theater Tokyo.
Band Passpo☆ 1st One-Man Live is going to be held in May 2016 at Harajuku Astro Hall, Tokyo.
The idol group is going to participate in @Jam in Shanghai 2016, in China, along with The World Standard and Tokyo Girls' Style in June.
Profile
Passpo☆ (ぱすぽ☆)
Years active : 2009 – present
Label : Nippon Crown
Agency : Platinum Passport
Members
Negishi Ai (根岸愛) – White
Fujimoto Yukimi (藤本有紀美) – Blue
Masui Mio (増井みお) – Mint Green
Mori Shiori (森詩織) – Yellow
Iwamura Natsumi (岩村捺未) – Pink
Tamai Anna (玉井杏奈) – Purple
Anzai Naomi (安斉奈緒美) – Orange
Former Members
Sakuma Kaho (佐久間夏帆) – Green
Okunaka Makoto (奥仲麻琴) – Red
Makita Sako (槙田紗子) – Pea Green
Discography
Singles
31/03/2010 : Let It Go!!
14/07/2010 : Hallelujah (ハレルヤ)
20/10/2010 : GPP
20/10/2010 : Go on a Highway
20/10/2010 : Pretty Lie
15/12/2010 : Departure
04/05/2011 : Shoujo Hikou (少女飛行)
24/08/2011 : ViVi Natsu (ViVi 夏)
07/12/2011 : Kiss=Suki (キス=スキ)
07/03/2012 : Kimi wa Boku wo Suki ni Naru (君は僕を好きになる)
13/06/2012 : Next Flight
15/08/2012 : Natsuzora Hanabi (夏空 Hanabi)
03/10/2012 : Wing
13/02/2013 : Sakura Komachi (サクラ小町)
22/05/2013 : Step & Go / Candy Room (Step & Go / キャンディー・ルーム)
26/06/2013 : Truly
31/07/2013 : Mousou no Hawaii (妄想のハワイ)
16/10/2013 : Growing Up
26/03/2014 : Perfect Sky
20/08/2014 : Himawari (向日葵)
24/02/2016 : Mr. Wednesday
Other Singles
20/06/2012 : Yameru Idol (病めるアイドル) (Urbangarde feat. Passpo☆)
Albums
08/12/2010 : Take☆Off
07/12/2011 : Check-in
14/11/2012 : One World
11/12/2013 : JeJeJeJet!!
13/05/2015 : Beef or Chicken?
Best-of Albums
27/03/2013 : Passpo☆ Best 1 (ぱすぽ☆ベスト1)
27/03/2013 : Passpo☆ Best 2 (ぱすぽ☆ベスト2)
10/12/2014 : Tracks
Links
News