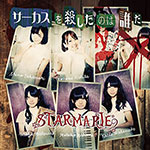 Starmarie's new single Circus wo Koroshita no wa Dare Da (サーカスを殺したのは誰だ ; Who Killed Circus?) was released on December 3rd.
This long-awaited single is the first one by Starmarie for more than 2 years.
The music video has been unveiled.
The lyrics were written by yusuke.t. The music was composed and arranged by Asada Yusuke.
The CD contains 3 songs. 4 editions are available.
Furthermore, Starmarie official collection card app for iPhone was released in early December. You can download it on the iTunes store.
Kishita Nozomi and Nakate Motoko will be starring in the stage play Ginga Tetsudou no Yoru ni Kanari Yoru Yoru (銀河鉄道の夜にかなり依る夜) in January 2015.
Tracklist
CD

Circus wo Koroshita no wa Dare Da (サーカスを殺したのは誰だ ; Who Killed Circus?)
Kyou Oshiki Gekka no Budoukai (狂おしき月下の舞踏会)
Yomei 124 Hi no Cinderella (余命124日のシンデレラ)
Music Video (PV)