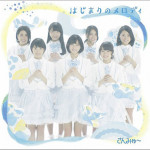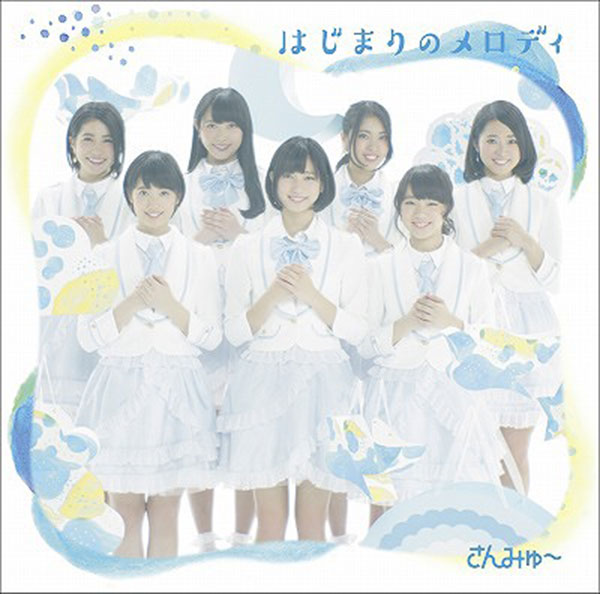 The new single of Sunmyu entitled Hajimari no Melody (はじまりのメロディ) will be on sale on next March 18.
This is the 8th single of Sunmyu and its first as a septet. Indeed, Kyogoku Tomoka left the idol group on last January 17.
The MV and the tracklist were revealed. The song Hajimari no Melody was witten by Mineko and composed by Kinoshita Keigyo.
The single will be realeased in 4 different editions : a regular one and three other ones rated A, B and C. The editions will contain the main song, a B-side new song and instrumental versions. Each B-side song is different depending on the edition.
The A edition will contain the same CD as the regular edition and include a bonus DVD contain the music video and its making of.
Furthermore, Sunmyu gave a live entitled Sunmyu~ SUN & YOU LIVE 2015 -2nd Anniversary- Junpaku Sengen (さんみゅ~LIVE2015 SUN&YOU-2nd Anniversary-純白宣言) on January 17 at Sogetsu Hall in Tokyo (Tomokyon's graduation day) to mark the 2nd anniversary of the group's debut in major.
Discover the music video of Hajimari no Melody in short version below.
Tracklist
Regular Edition CD

Hajimari no Melody (はじまりのメロディ)
Koi no Platform (恋のプラットフォーム)
Hajimari no Melody (Instrumental)
Koi no Platform (Instrumental)
 Edition A CD

Hajimari no Melody (はじまりのメロディ)
Koi no Platform (恋のプラットフォーム)
Hajimari no Melody (Instrumental)
Koi no Platform (Instrumental)
Edition A DVD

Hajimari no Melody (Music Video)
Hajimari no Melody (Music Video ~DANCE Version~)
Hajimari no Melody (Music Video Shot Making) (撮影メイキング)
Hajimari no Melody (Jacket Shooting Making) (ジャケット撮影メイキング)
Edition B CD

Hajimari no Melody  (はじまりのメロディ)
Cherry on top
Hajimari no Melody (Instrumental)
Cheery on top (Instrumental)
Edition C CD

Hajimari no Melody  (はじまりのメロディ)
Gozenreiji ~Itsuwari no Love~ (午前零時~偽りのLove~)
Hajimari no Melody (Instrumental)
Gozenreiji ~Itsuwari no Love~ (Instrumental)
Music Video (PV)