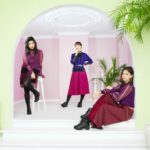 To the surprise of the fans, Especia announced that it will disband.
A news announcement at the end of last January via a message from the group on the official website.
The members discussed with their agency about their separation. The reasons remain rather blurred but it's said that structural problems with their agency would have led the group to dissolve. This information remains to be confirmed.
But we can notice something else: the group sees the last discs as commercial failures. Indeed, the last mini album of Especia Mirage (songs sung in English), released in August 2016, did not reach the best ranks of the Oricon charts ; the same for its last single Danger which isn't in any chart. Would it be also because of the sales decline of their discs that pushed the group to want to disband ?
Especia has also undergone a major changing under its group with the departure of several members since its creation and the integration of a member in June 2016.
The idol group was formed in June 2012 with 10 members. The group became known with its EP Primera released in 2015, which received generally positive reviews by the public, and is distinguished from other Japanese idol groups for its western songs of funk, soul and disco styles. The group moved from Osaka to Tokyo in April 2016.
The current members are the leader Tominaga Haruka, Mori Erika and Mia Nascimento (the latter of Portuguese origin).
However, to close the adventure of Especia, a new best-of album entitled Wizard, will be on sale next March. This album will compile the best songs of the group since its formation. In addition, from 11 to 26 March, a final tour, Spice Tour, will be held in Fukuoka, Nagoya, Osaka and Tokyo respectively.
The group supported by a large number of fans, asked them to not hesitate to come many at the tour and also thank them for their great support.