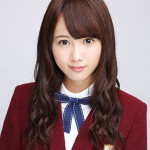 Nagashima Seira announced her graduation from Nogizaka46.
She explained that she decided to leave the idol group in order to realize her next dream. She wants to pursue her career in the entertainment industry.
Nagashima Seira made this announcement on December 17 during Nogizaka46 Under Live at Nippon Budokan in Tokyo.
During her speech, she thanked the other members and the fans for their support, and shed tears.
Nagashima Seira joined Nogizaka46 in 2011 as a 1st generation member. She is 21 years old.
The date of her graduation ceremony hasn't been determined yet.