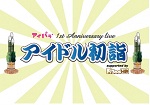 Dorothy Little Happy, Party Rockets, Negicco, Sun-μ (β), Dancing Dolls, [email protected], Hime Kyun Fruit Can, Alice Juban, Up Up Girls, and more will perform at I-Para 1st Anniversary Live Idol Hatsumoude (アイパラ 1st Anniversary Live アイドル初詣).
The concert will be held on January 3 at Zepp DiverCity in Tokyo.
This event celebrates the 1st anniversary of Idol Paparazzi and is supported by PigooHD.
Schedule
Date : 03/01/2013
Time : 15:00
Venue : Zepp DiverCity, Tokyo
Line up :

Dorothy Little Happy
Party Rockets
Negicco
Sun-μ (β)
Dancing Dolls
Hime Kyun Fruit Can
Alice Juban
Up Up Girls