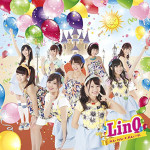 The new single of LinQ entitled Hare Hare Parade (ハレハレ☆パレード) will be on sale on April 29.
This is the 11th single of LinQ and its 6th one to release under the major label Warner Music Japan. The song was produced by the singer-songwritter Naoto Inti Raymi.
Two editions will be available. The tracklists were unveiled.
The limited and regular editions will contain each one a CD with different B-side songs.
LinQ recently posted the music video of Hare Hare☆Parade on YouTube. Discover it below.
The video was filmed at a popular wedding destination that was built on an artificial island in Fukuoka. In addition to renting out the resort for a day, radio-controlled helicopters were used to get the aerial shots zooming in and out of the island. The combination of the otherworldly tropical setting and LinQ's bright summery outfits take Naoto Inti Raymi's carnivalesque music to another level.
Furthermore, LinQ will be celebrating their 4th anniversary on April 18 at Zepp Fukuoka.
Tracklist
Regular Edition CD

Hare Hare☆Parade (ハレハレ☆パレード)
BATON
Bang Bang LinQ Island
Hare Hare☆Parade (Instrumental)
BATON (Instrumental)
Bang Bang LinQ Island (Instrumental)
Limited Edition CD

Hare Hare Parade (ハレハレ☆パレード)
V to Road
Hare Hare☆Parade (Instrumental)
V to Road (Instrumetal)
Music Video (PV)