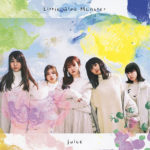 Little Glee Monster starts the year with their new album.
It's entitled juice and it was released on January 17 and it's their third studio album.
You can find the latest singles of Little Glee Monster released in 2017 : Dakara, Hitori Janai, Ashita e and OVER / Hikaru Kakera.
The album contains a total of 13 songs including the latest singles and a new version of their single Suki da..
An additional CD contains covers and songs sung in live.
The DVD contains a video of Little Glee Monster's concert held on November 19th.
Tracklist
CD

Dakara, Hitori Janai (だから、ひとりじゃない)
Ashita e (明日へ)
Go My Way!
OVER
Jupiter
Itsuka Kono Namida ga (いつかこの涙が)
Love to the world
Get Down
Hikaru Kakera (ヒカルカケラ)
Gift
Suki da. (remake ver.) (好きだ。)
COLORS
Shiawase no Kakera (幸せのかけら)
Disc 2 – Cover CD

I WAN'NA BE LIKE YOU -Live on 2017.11.19- (Original song from The Jungle Book)
SEPTEMBER (Original: Earth, Wind & Fire)
Ring! Ring! Ring! (Original: DREAMS COME TRUE)
Ito (糸) (Original: Nakajima Miyuki)
Let's Grooooove!!!!! Monster ~Opening/Ending~
DVD

I WAN'NA BE LIKE YOU -Live on 2017.11.19-