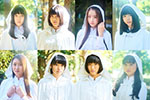 Idol Renaissance announced their upcoming disbandment.
This announcement was made on January 22nd.
There is little information as to why Idol Renaissance decided to go their separate ways, but there is a mention of the idol group not being able to "breakthrough". This by itself is pretty sad since it essentially means that the group was not able to be profitable.
The last activities of the girls will be held on February 24th.
Idol Renaissance was created in May 2014 by Sony Music Artists to celebrate the 40th anniversary of the company.
We wish them much success in their future activities.