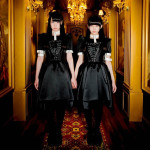 Shirai announced her graduation from Jyujyu.
As a result, the idol group is on hiatus since only one member is remaining, Neu.
In addition, it has been announced that Jyujyu staff was going to hold auditions in March to recruit new members.
The idol group is planning to restart activities with a new line-up next spring.
Furthermore, Jyujyu's 1st album Ikenie (イケニエ)  is on sale since February 23rd.