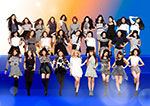 E-Girls is a Japanese dance and vocal unit formed in 2011 by LDH.
The name of the unit stands for Exile Girls Unit.
E-Girls consists of members from Dream, Happiness, Flower, Bunny, and others.
E-Girls made their debut in December 2011.
Their 3rd single Follow Me ranked 3rd on Oricon Weekly Chart in October 2012.
The 4th single The Never Ending Story was the theme song for the drama Biblia Koshodou no Jiken Techou (ビブリア古書堂の事件手帖 ) broadcast on Fuji TV.
Their album Lesson 1 ranked 1st on Oricon Weekly Chart in April 2013, and stayed 4 consecutive weeks in the top 5.
E-Girls participated in Exile Live Tour.
Profile
E-Girls
Years active : 2011 – present
Label : Rhythm Zone
Agency : LDH
Members
Dream
Nishida Shizuka (西田静香)
Takamoto Aya (高本彩)
Nakajima Ami (中島麻未)
Abe Erie (阿部絵里恵)
Happiness
Nagatomo Sayaka (長友さやか)
Dobashi Kaede (土橋楓)
Fujii Karen (藤井夏恋)
Ariiso Miyuu (有磯実結)
Suzuki Yurino (鈴木結莉乃)
Sugieda Mayu (杉枝真結)
Suda Anna (須田アンナ)
Kawamoto Ruri (川本璃)
Flower
Fujii Shuuka (藤井萩花)
Shigetome Nanami (重留真波)
Nakajima Mio (中島美央)
Washio Reina (鷲尾伶菜)
Muto Chiharu (武藤千春)
Ichiki Kyoka (市來杏香)
Bando Nozomi (坂東希)
Sato Harumi (佐藤晴美)
Others
Takeda Yuzuna (武部柚那)
Takeda Kyoka (武田杏香)
Hagio Misato (萩尾美聖)
Inagaki Rio (稲垣莉生)
Ishii Anna (石井杏奈)
Yamaguchi Nonoka (山口乃々華)
Ikuta Risa (生田梨沙)
Nakajima Momoka (中嶋桃花)
Former Members
Sayaka (川本璃)
Mimu (ミム)
Yamamoto Runa (山本月)
Vattsu Miyoshi (ヴァッツ美良)
Oishi Miyu (大石美優)
Hanayama Mizuki (大石美優)
Kizu Reina (木津玲奈)
Mizuno Erina (水野絵梨奈)
Discography
Singles
28/12/2011 : Celebration!
18/04/2012 : One Two Three
03/10/2012 : Follow Me
20/02/2013 : The Never Ending Story
13/03/2013 : Candy Smile
02/10/2013 : Gomen Nasai no Kissing You (ごめんなさいのKissing You)
20/11/2013 : Kurukuru (クルクル)
Albums
Links
News