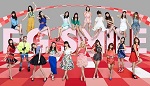 E-Girls is a Japanese dance and vocal girl group formed in 2011 and produced by LDH.
The leader is Aya.
The name of the group stands for Exile Girls Unit.
E-Girls consist of members from Dream, Happiness, Flower, Bunny, and other artists.
Biography / History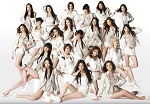 The event E-Girls Show started in April 2011.
E-Girls released their debut single Celebration! in December 2011.
Their 3rd single Follow Me ranked 3rd on Oricon Weekly Chart in October 2012.
Their 4th single The Never Ending Story was the theme song for the drama Biblia Koshodou no Jiken Techou (ビブリア古書堂の事件手帖 ) broadcast on Fuji TV.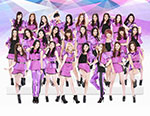 Their album Lesson 1 ranked 1st on Oricon Weekly Chart in April 2013, and stayed 4 consecutive weeks in the top 5.
In December 2013, E-Girls participated in the 64th NHK Kouhaku Uta Gassen (第64NHK紅白歌合戦). It is a popular annual music show broadcast on New Year's Eve.
In January 2014, Aya (Dream) was named leader by Hiro (Exile).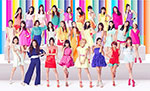 Fujii Shuuka, Takeda Kyoka, Ishii Anna, Dobayashi Kaede, Fujii Karen, Suda Anna, Yamaguchi Nonoka, Sato Harumi, Bando Nozomi and Shizuka were starring in the drama Koibumi Biyori (恋文日和) broadcast on NTV between January and March 2014. It was their first experience as actresses.
Sugieda Mayu and Takeda Kyoka withdrew in April 2014.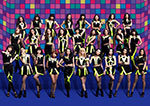 E-Girls performed the opening theme song Odoru Pompokolin (おどるポンポコリン) for the anime Chibi Maruko Chan (ちびまる子ちゃん) in April 2014. Ami, Fujii Karen, Washio Reina and Takebe Yuzuna unveiled a lecture video to learn the choreography of the Pihyara Dance (ピーヒャラダンス).
E-Girls participated in the MTV Video Music Awards Japan 2014 (VMAJ) on MTV Asia in June 2014. They won the Best Choreography Award for Gomennasai no Kissing You (ごめんなさいのKissing You).
The members appeared in a commercial for NTT Docomo in July 2014. The CM song was their single E.G. Anthem -We Are Venus-.
The group held its 1st live tour Colorful Land in July and August 2014.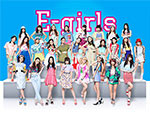 The single Highschool Love is the theme song for the drama GTO broadcast on Fuji TV. It is also the CM song for the TV commercial Samantha Vega meets E-Girls.
Muto Chiharu withdrew in October 2014 to study abroad.
The single Mr. Snowman, on sale in November 2014, is the CM song for e-ma candy by UHA. The members of E-Girls appear in the TV commercial.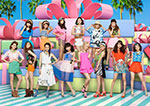 Ishii Anna and Yamaguchi Nonoka appeared in a commercial for Rikunabi Shingaku (リクナビ進学) in March 2015.
The single Anniversary!!, on sale in May 2015, was the CM song for Prince Hotels' summer campaign Natsu Pri (夏プリ).
The variety show E-Girls wo Majime ni Kangaeru Kaigi (E-girlsを真面目に考える会議) aired on TV Tokyo from April to June 2015.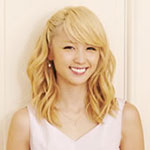 Ami debuted as a seiyuu (声優 ; voice actress) for the 25th anniversary of the anime Chibi Maruko-chan.
In July 2015, she threw the ceremonial first pitch at a baseball game of the Saitama Seibu Lions at the Seibu Dome.
Under the name of Dream Ami, she made her solo debut with the single Dress wo Nuida Cinderella (ドレスを脱いだシンデレラ) in July 2015.
Ishii Anna was starring in the movie Solomon's Perjury (ソロモンの偽証 ; Solomon no Gijou) released in September 2015. She won the Blue Ribbon Award for Best Newcomer.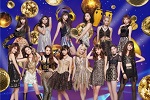 The single Dance Dance Dance, on sale in September 2015, was the tie-up song for the event Kingdom of Flowers & Lights (花と光の王国) at Huis Ten Bosch theme park.
Ichiki Kyoka announced her graduation from E-Girls and Flower in October 2015.
Washio Reina debuted as a voice actress in the anime Kindaichi Case Files R (Returns) (金田一少年の事件簿R) in December 2015.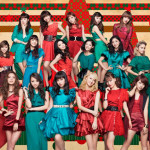 The single Merry × Merry Xmas★, released in December 2015, is the first Christmas song by E-Girls.
Sisters Fujii Shuuka and Karen participated in a commercial for Fasio (ファシオ) makeup cosmetics in January 2016.
E-Girls collaborated with Jankara (ジャンカラ) karaoke chain in February 2016.
The greatest hits album E.G. Smile -E-Girls Best- was released in February 2016.
Sato Harumi, Kaede and Fujii sisters appeared in a commercial for Samantha Vega in February 2016. E-Girls' song Dance with Me Now! was used in the CM.
Fujii Karen, Suda Anna, Fujii Shuuka, Bando Nozomi and Sato Harumi participated in a campaign for Beats by Dr. Dre headphones in March 2016.
Ami dubbed the voice of Gazelle in Disney's Zootopia (ズートピア). She has also performed the Japanese version of the theme song Try Everything (トライ・エヴリシング). Shakira got this role in the US version. The animation movie is going to be released in theaters in April 2016 in Japan.
Ami co-hosts the show Good Time Music on TBS since April 2016.
Profile
E-Girls
Years active : 2011 – present
Label : Rhythm Zone
Agency : LDH
Members
Dream
Shizuka (シズカ) – Nishida Shizuka (西田静香)
Aya (アヤ) – Takamoto Aya (高本彩)
Ami (アミ) – Nakajima Ami (中島麻未)
Erie (エリエ) – Abe Erie (阿部絵里恵)
Flower
Shigetome Manami (重留真波)
Washio Reina (鷲尾伶菜)
Fujii Shuuka (藤井萩花)
Nakajima Mio (中島美央)
Sato Harumi (佐藤晴美)
Bando Nozomi (坂東希)
Happiness
Sayaka (サヤカ) – Nagatomo Sayaka (長友さやか)
Kaede (楓) – Dobashi Kaede (土橋楓)
Fujii Karen (藤井夏恋)
Miyuu (ミユウ) – Ariiso Miyuu (有磯実結)
Yurino (ユリノ) – Suzuki Yurino (鈴木結莉乃)
Suda Anna (須田アンナ)
Kawamoto Ruri (川本璃)
Others
Takeda Yuzuna (武部柚那)
Hagio Misato (萩尾美聖)
Inagaki Rio (稲垣莉生)
Ishii Anna (石井杏奈)
Yamaguchi Nonoka (山口乃々華)
Ikuta Risa (生田梨沙)
Nakajima Momoka (中嶋桃花)
Former Members
Sayaka (川本璃)
Mimu (ミム)
Yamamoto Runa (山本月)
Vattsu Miyoshi (ヴァッツ美良)
Oishi Miyu (大石美優)
Hanayama Mizuki (大石美優)
Kizu Reina (木津玲奈)
Mizuno Elina (水野絵梨奈)
Sugieda Mayu (杉枝真結)
Takeda Kyoka (武田杏香)
Muto Chiharu (武藤千春)
Ichiki Kyoka (市來杏香)
Discography
Singles
28/12/2011 : Celebration!
18/04/2012 : One Two Three
03/10/2012 : Follow Me
20/02/2013 : The Never Ending Story
13/03/2013 : Candy Smile
02/10/2013 : Gomen Nasai no Kissing You (ごめんなさいのKissing You)
20/11/2013 : Kurukuru (クルクル)
09/07/2014 : E.G. Anthem -We Are Venus-
13/08/2014 : Odoru Pompokolin (おどるポンポコリン)
10/09/2014 : Highschool Love
26/11/2014 : Mr. Snowman
20/05/2015 : Anniversary!!
30/09/2015 : Dance Dance Dance
23/12/2015 : Merry × Merry Xmas★
Albums
17/04/2013 : Lesson 1
19/03/2014 : Colorful Pop
01/01/2015 : E.G. Time
Best-of Albums
10/02/2016 : E.G. Smile -E-girls Best
Links
News