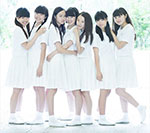 The group Idol Renaissance signed a new contract with the independant idol label T-Palette Records, in last december.
Idol Renaissance had debuted with the singles 17 Sai and Taiyou to Shinzou / Hatsukoi the previous year.
T-Palette Records includes since June 2011 several current idols such as Vanilla Beans, Negicco, Lyrical School, Caramel Ribbon, Pla2me, etc…
Idol Renaissance is the most recent idol group to have signed under T-Palette Records, a label who begins to be known in Japan since its creation in 2011.
Furthermore, Idol Renaissance plans to release under this label their 3rd single entitled YOU on March 24.