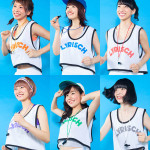 Lyrical School is a Japanese idol group formed in October 2010. Their name is sometimes shortened as LyriSch (リリスク).
It currently consists of 6 members.
Lyrical School was formerly known as Tengal6.
The idol unit performs hip hop and rap songs.
They are based Tokyo.
Biography / History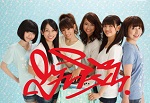 In October 2010, the 6 original members of Tengal6 were Ami, Ayaka, Erika, Mariko, Mei and Yumi.
Their debut single Machigau (まちがう) was released in July 2011.
The idol unit changed its name to Lyrical School in August 2012 when they signed under T-Palette Records label.
Mariko graduated in January 2013. She was replaced by Konatsu Hina in March 2013.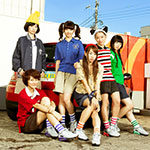 Former leader Erika left the idol group in June 2013. Minan joined the unit in August 2013 to replace her.
The members of Lyrical School played in the movie 讐 〜Ada〜 released in July 2013 along with other idol groups such as Up Up Girls (Kari), LinQ, Vanilla Beans and Caramel Ribbon.
The girls worked in collaboration with Beams to produce limited edition t-shirts in October 2014. Each t-shirt model had the name and the color of a member of the idol group.
Lyrical School Oneman Live 2014 at Liquidroom was held in Tokyo November 2014.
The members hosted deeper deeper radio show broadcast on Tokyo FM in March 2015.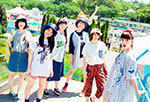 lyrical school tour  2015 "date spot" is being held from May to July. This event is the first nationwide concert tour of the idol group.
Ayaka and Yumi participated in the stage play Akira which ran from September to October 2015.
Hina announced her graduation in December 2015 in order to study abroad. She wants to have a job related to foreign languages.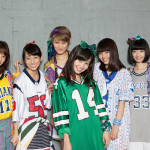 Former Rhymeberry member Mochida Himeka, also known as MC Hime, joined the idol group in December 2015.
Their official fan club named Lyrical School Heads Club opened in February 2016.
Mei and Yumi made a guest appearance in the MV of Negicco's single Mujun, Hajimemashita (矛盾、はじめました。) on shttp://www.jpop-idols.com/wp-admin/post.php?post=1832&action=editale in March 2016.
In March 2016, Lyrical School made clothes (t-shirt, cap…) and accessories in collaboration with Rotari Parker fashion brand store. For this occasion, Yumi performed and wrote the lyrics of an original song.
Their major debut single Run and Run will be released in April 2016 under King Records label.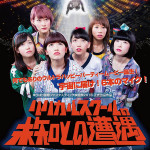 Ayaka, Mei, Yumi, Ami, Minan and Hime are starring in the movie Lyrical School no Michi tono Souguu (リリカルスクールの未知との遭遇) which is going to be released in May 2016.
Profile.
Lyrical School (リリスク) (ex Tengal6)
Years active : 2010 – present
Label : King Records
Agency : Newtral
Members
Ami (細越麻未)
Ayaka (大部彩夏)
Mei (芽依)
Yumi (清水裕美)
Minan (本多未南)
Hime (持田妃華)
Former Members
Mariko (工藤まり仔)
Erika (知名えりか)
Hina (小松ひな)
Discography
Singles
15/07/2011 : Machigau (まちがう) (Tengal6)
28/10/2011 : Put your Hands Up! (プチャヘンザ!) (Tengal6)
22/08/2012 : Sorya Natsu Da! / Oide yo (そりゃ夏だ! / おいでよ)
12/12/2012 : Ribbon wo Kyutto (リボンをきゅっと)
15/05/2013 : Parade
11/12/2013 : Waratte.net / My Kawaii Nichijoutachi (わらって.net / Myかわいい日常たち)
02/04/2014 : Brand New Day
15/07/2014 : Fresh!!!
28/10/2014 : Pride
21/07/2015 : Wonder Ground (ワンダーグラウンド)
27/04/2016 : Run and Run
Albums
25/05/2012 : City (Tengal6)
18/09/2013 : Date Course
10/03/2015 : Spot
Links
News