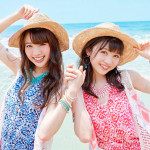 Arai Hitomi (Tokyo Girls' Style) and Shida Yuumi (Yumemiru Adolescence) announced to form a new idol unit Shida Summer Arai Summer! (志田サマー新井サマー).
As you might have guessed, the name of the group contains the members' surnames ; this is a temporary group which will be active during next summer only.
The duo announced that it will release a new single entitled Shakunetsu Summer ~SUMMER KING x SUMMER QUEEN~ (アッパーな「灼熱サマー ~SUMMER KING × SUMMER QUEEN~) on July 6.